If you are a blogger or a member of the press I'm happy to make available a limited number of preview / advanced copies of my upcoming book entitled, "Search Engine Optimization: Your visual blueprint for effective Internet marketing, 2nd Edition."
The first edition was the best-selling book on search-engine marketing in the United States for the last two years (2008, 2009) with well over 20,000 copies sold. The publisher is Wiley (the publisher of the very popular Dummy books) – to learn more about the upcoming book CLICK HERE.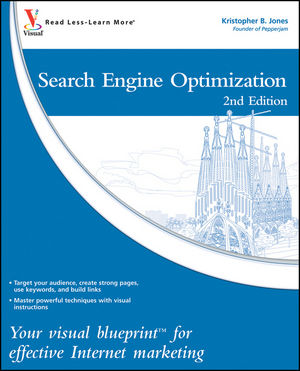 The only catch to getting a FREE advanced copy of my book is that you agree to review it or mention it on your blog or in your publication, positive or negative (with a link to my Web site if you are a blogger – heck, the book is about SEO!!!!).
Wiley has only made a limited number of exclusive, advanced copies available so take advantage of this opportunity before books run out.
To participate simply respond to this post with your blog name and or publication – I'll follow-up with you for an address based on the e-mail you provide in posting a comment.
Alternatively, you can submit your information here.
Live with passion.
Thanks for your support!