In anticipation of the release of the second edition of "SEO Visual Blueprint" I'm happy to provide you with previews of each chapter. Scroll to the bottom of this review for easy links to each review.
Pre-order the 2nd edition HERE!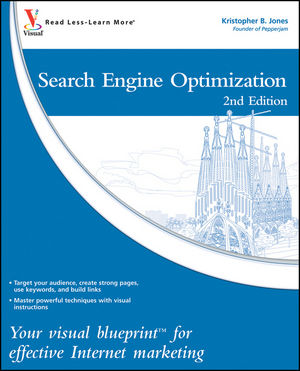 Chapter 9 covers Using Google Analytics. Several years ago internet powerhouse Google acquired Urchin Software, a leading Web analytics provider, and made it FREE. Since the acquisition Google has spent considerable resources in making Urchin (now known simply as Google Analytics) as good (arguably) as anything out there. Therefore, if you own a Web site and prefer not to spend thousands of dollars or more per month to access enterprise level analytics software, Google Analytics is for you.
Google Analytics provides you with the data you'll need to better understand your visitors, such as where they are from, the keywords they used (*****) to find your Web site, traffic sources (i.e. Twitter, Facebook, Google Organic Search, Google Paid Search, Yahoo, Bing, direct, etc.), and much more. Importantly, if you are an e-commerce Web site or are looking to measure any type of conversion Google Analytics provides you with the ability to easily track conversions, which allows you to maximize Web site traffic and marketing spend.
Here's a higher level preview of leveraging Google Analytics.
BTW – this chapter is updated considerably in the second edition of this book to take advantage of all the latest tools available for free through Google Analytics.
Chapter 9 – Using Google Analytics
Google Analytics is a free analytics solution that was designed to give you a complete view of every aspect of activity on your Web site. Understanding how to properly analyze and implement the numerous types of data Google Analytics provides gives you a considerable edge over your competition in the quest for top organic search rankings. Moreover, Google Analytics gives you a high-level view of your Web site traffic and user interaction, which allows you to analyze the various traffic sources coming to your Web site. You can take this information to improve your overall traffic-generation strategies, including pay-per-click, search-engine optimization, affiliate marketing, and any other traffic sources.
Google Analytics is free and easy to install. The most important detail in the installation process is making sure that your tracking code is correctly placed on every single page of your Web site. This ensures that all of your Google Analytics reports are as accurate and reliable as possible. After you have Google Analytics in place, you can analyze your traffic data in various ways. Looking through your traffic sources in Google Analytics is a simple way of finding out what keywords are sending you traffic.
Another way to use Google Analytics is to set and track goals. For example, if your Web site tracks orders through a shopping cart or leads in the form of a newsletter subscription, e-mail submit, or catalog request, goal tracking allows you to evaluate the number of transactions that occurred and the keyword that triggered the conversion. Goal tracking is especially useful when targeting keywords in your SEO efforts. Knowing ahead of time what keywords are already converting for your site and targeting those keywords until you reach the top organic positions is a very effective SEO strategy.
Google Analytics allows you to not only track traffic that is coming to your Web site, but also any traffic that may leave in the form of an external click. For example, if you are setting up any traffic trades or promoting any affiliate offers on your Web site, you will want to keep track of how many clicks you are sending to external sites.
A key benefit of Google Analytics is that you can send yourself or colleagues e-mail reports. You can also provide others with access to your Analytics account with full or restricted access. Moreover, reports can be sent and downloaded in multiple popular formats including PDF and CSV, which make it very easy to combine or compare reports across different online and offline sources.
Next up is Chapter 10 – Social Media Optimization, which includes several updates from the first edition of SEO Visual Blueprint, including dedicated sections on Twitter Search, Google Buzz, and more!
If you'd like to pre-order the 2nd edition of my book CLICK HERE or wait a few weeks and buy it at any major bookstore in North America.
Click any of the links below to read previews from previous chapters:
Chapter 1 – Intro to SEO
Chapter 2 – Keyword Generation
Chapter 3 – Creating Pages
Chapter 4 – Basic Web Site Structure
Chapter 5 – Advanced Web Site Structuring
Chapter 6: Creating Content
Chapter 7 – Creating Communities
Chapter 8 – Building Links
Chapter 9 – Using Google Analytics