In anticipation of the release of the second edition of "SEO Visual Blueprint" I'm happy to provide you with previews of each chapter. Scroll to the bottom of this review for easy links to each review.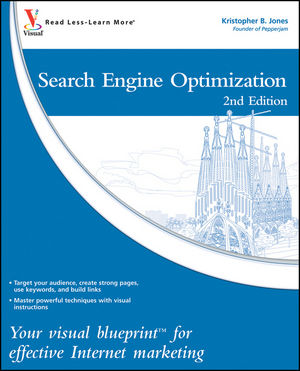 In this post I'll preview Building Links to improve your SEO. If you read no other chapter, Chapter 8 on building links is the most important and probably most influential chapter you can read if you want to improve your SEO. If you read Sergey Brin and Larry Page's doctoral dissertation appropriately titled "The Anatomy of a Large-Scale Hypertextual Web Search Engine" (here's a link) with a close eye (like I did 10+ years ago) you'd conclude that at the heart of the Google search engine is an algorithmic analysis of Web site / page AUTHORITY, which is derived from a complex, automated equation that heavily weighs the NUMBER and QUALITY of links coming into any given site. Accept the fact that links are critical to your SEO success – while the "just build it and they will come" mentality is nice and fuzzy it doesn't have any place in your strategic SEO plan unless you intend to have your grandkids and their grandkids manage your online business…because it will take that long for most without a solid link building strategy.
Of course, building links (manually) is one of the most controversial aspects of SEO and unfortunately the publisher of my books (Wiley) asked me to keep the writing technical and not necessarily talk about the risks and rewards of link building. Let me put it this way, you need to first start with a read of Larry and Sergey's dissertation followed by a thorough read of what tools and techniques are available to build authority (I mean links) into your site. Once you truly understand what's going on you can make or influence important decisions about link building and your given Web site(s). Keep in mind that short term gains usually result in long term penalties, which can cripple your business and Web site traffic. On the other hand YOU MUST put together a strategy for building links…and that strategy is likely going to include a lot of work, a willingness to change your approach if things aren't working, and a long term strategy.
BTW – if you have any questions…which I'm sure you do, feel free to post them here and I'll do my very best to provide a solid answer.
Here's a quick high level overview of what Chapter 8 – Building Links – is all about!
Chapter 8 – Building Links
If creating large amounts of original, well-written content is considered King for search-engine-optimization purposes, building quality links back to your Web site might be considered the Holy Grail. You must have more than just quality content, because Google and other major search-engine algorithms evaluate the number and quality of Web sites that link to your Web pages as a primary and fundamental component of ranking your Web site over another.
Search engines conclude that Web sites with more backlinks must be more popular and authoritative than Web sites with fewer backlinks. Keep in mind that search-engine algorithms not only evaluate the number and quality of backlinks going to your Web site, but also what those links say in the form of anchor text. Anchor text is the text contained in front of a hyperlink from one page to another.
Here's an example – this chapter is about Building Links. The hyper-linked text is my anchor text.
Building links is sort of like trying to answer the age-old question of what comes first, the chicken or the egg. Should you just build great content and wait for other Web sites to link to you, or should you proactively recruit others to link to your site?
If you are serious about search-engine optimization, you should proactively and aggressively build links. It is true that if you build original, compelling content, others are likely to link to your Web site, and over time Google might conclude that you are an authority. However, the process of gaining and maintaining search-engine ranking is very competitive, and if you want to rank well in the search results you need to have not only great content, but also quality, relevant backlinks.
All links are not created equal. Although quantity is important, focus on trying to build quality and relevant links. Relevant links come from Web sites related to your line of business and content. For example, if you have a gourmet food Web site, getting a link from Gourmet Retailer magazine is better than getting a link from an equally popular celebrity gossip Web site. Quality links tend to come from popular Web sites that are generally trusted sources. Two of the main measures of popularity are Google's PageRank and the Alexa ranking system. PageRank gives you a rough idea of how authoritative Google thinks the Web site is, and Alexa provides a measure to compare the traffic volume of potential linking partners. In general, you should look for quality and relevant linking partners that have PageRank scores and Alexa rankings as good as or better than your own. A popular tool for helping you evaluate the quality of links is called Linkscape, which includes both free and paid versions. You can learn much more about Linkscape in the second edition of my book.
Building links can be extremely time consuming and may even cost money if you decide to use a link broker or a pay-per-post network. One of the more time-consuming forms of link building includes requesting one-way or reciprocal links directly from other Web sites. The process usually involves reaching out to potential link partners via e-mail and asking politely for a link or suggesting a barter situation where you link to them if they link to you.
Another way of building links is through blog and forum participation. However, in many cases, search engines such as Google either devalue or do not count blog and forum comments as links toward your PageRank. Despite this, other search engines use links from blogs and forums for ranking purposes.
Sending out online press releases through companies such as PRWeb and the PR Newswire is a great way to build links. Blogs and other content providers use press release services as a source for article ideas. Typically, when other people use your release as a basis or a source for an article, they also provide a link back to your Web site. In other cases, content aggregators reproduce and distribute your content, keeping in place any anchor-text-rich links that you may have strategically inserted into the body of your press release.
The most simple and easy way to build links is to buy them through link brokers and pay-per-post networks. However, consider carefully before you use link brokers and pay-per-post networks because search engines such as Google have strict policies against the use of paid links as a way of increasing PageRank. If Google concludes that one of your links is not natural, the link is likely to be devalued for PageRank purposes. Keep in mind that despite Google's policies against buying links for purposes of boosting PageRank, purchasing links from high-quality, relevant Web sites has other benefits, including branding and traffic generation.
Next up is Chapter 9 – Using Google Analytics.
If you'd like to pre-order the 2nd edition of my book CLICK HERE or wait a few weeks and buy it at any major bookstore in North America.
Click any of the links below to read previews from previous chapters:
Chapter 1 – Intro to SEO
Chapter 2 – Keyword Generation
Chapter 3 – Creating Pages
Chapter 4 – Basic Web Site Structure
Chapter 5 – Advanced Web Site Structuring
Chapter 6: Creating Content
Chapter 7 – Creating Communities
Chapter 8 – Building Links