In anticipation of the release of the second edition of "SEO Visual Blueprint" I'm happy to provide you with previews of each chapter. Scroll to the bottom of this review for easy links to each review.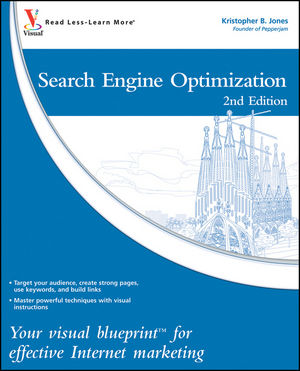 Chapter 7, Creating Communities is all about "connecting" with your visitors….allowing them to help build content on your site (think user generated content), and building more than just a Web site. The title "creating communities" can probably be replaced with "Leveraging the power of the internet to connect with your [fill in the blank]….users, consumers, customers, etc. Later chapters address social media, but this chapter focuses on creating blogs and forums.
Chapter 7 – Creating Communities
Creating a community such as a blog or forum on your Web site is one of the most effective ways to keep your content fresh, while helping to establish your site as an authority for your given area of business. Search engines such as Google favor Web sites with fresh content over similarly authoritative Web sites that do not update content as often. Starting a community is easy and inexpensive.
A clear benefit of creating a community on your Web site is the fact that communities promote interaction and content creation among your users. User-generated content from blogs and forums is a great way to build a reputation as an authority and provides you with opportunities to gain additional, unanticipated search-engine rankings.
A blog is an online journal or diary that is frequently updated by an author and typically allows readers to interact by providing comments after each blog post is published. Regardless of what kind of Web site you own, having a blog is a good idea. First, a blog provides clear search-engine-optimization benefits through controlled content creation and user-generated content via user comments. Second, a blog helps to establish you as an expert. As an expert, other Web sites will link to your content, which helps to improve your search-engine ranking. Third, blogs are sticky. In other words, your users will want to join your RSS feed and come back to your Web site frequently to check for new content and learn about your products and services.
Blogs are a great tool for communicating special offers and deals to loyal readers, and they allow you to go into detail about specific products that might require detailed explanation. For example, if you are about to launch a new product that includes a new, revolutionary way of doing something, a blog allows you to make the case for the benefits and usefulness of the product versus older-generation products.
Unlike a blog, a community forum is a discussion board where members and forum moderators interact by posting questions and answers and discussing common problems. A forum encourages your visitors to return again and again by allowing interaction and information sharing.
Because forums are ultimately message boards where people ask and answer questions, a forum can provide a great place to refer a customer who has a question that may be shared by other members of the community. If a visitor has a question about the durability of a particular product or is unsure about one product over another, a forum provides a venue to get feedback and to generate interest in your products.
Having a forum on your Web site allows you to understand more about your visitors by reading the conversations and discussions between them. You can use this type of information to minimize demand placed on your customer service by addressing a customer concern before it spreads. Additionally, you can use a forum to ask your customers about what products they want that you do not currently have.
Regardless of whether it is good or bad, consumer feedback can be invaluable and can help you market your products or services more effectively. Keep in mind that a forum on your Web site does not solely have to be about promoting your products and services. Equally valuable is the information that you can get from your customers to improve your overall Web site initiatives.
Next up is Chapter 8 – Building links….the wholly grail of the Google search algorithm.
Click any of the links below to read previews from previous chapters:
Chapter 1 – Intro to SEO
Chapter 2 – Keyword Generation
Chapter 3 – Creating Pages
Chapter 4 – Basic Web Site Structure
Chapter 5 – Advanced Web Site Structuring
Chapter 6: Creating Content
Chapter 7 – Creating Communities