As part of the release of the second edition of "SEO Visual Blueprint" I'm happy to provide you with previews of each chapter. Scroll to the bottom of this review for easy links to each review.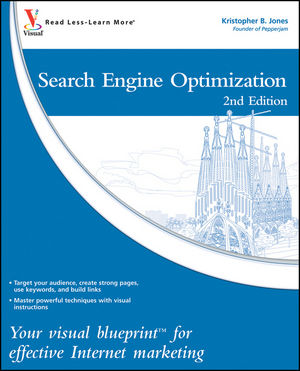 Chapter 4 focuses on "onsite" search engine optimization in contrast to offsite (link building / social media optimization) SEO. Any effective SEO analysis starts with Web site structure not only because subtle changes to your Web site can make a substantial difference in SEO, but also because poor Web site structure can doom your SEO efforts. Think of basic Web site structure as kindergarten – you don't advance to first grade unless you optimize specific, yet basic things such as title and description tags. Also, you don't advance to second and third grade unless you organize your site in such a way that search engine spiders can easily index ALL of your content in an easy and seamless way. OK, here's my preview:
Chapter 4 – Basic Web Site Structure
A well-optimized Web site design and structure helps to improve the overall performance of your Web site, making it easier for users to navigate and for search engines to find and index all of your content. You want to balance your Web site design between the needs of your users and the needs of the search engines. To be successful, your Web site should not only provide a superior user experience, but also include an optimal structure so that search engines index your content.
One way to ensure that search engines find all of your content is by submitting a sitemap. Think of your sitemap as an outline of your entire Web site. A sitemap displays the inner framework and organization of your Web site's structure to the search engines. A sitemap should reflect the entire navigational structure of your Web site so that search-engine spiders can find and index all of your content. As you add new content to your Web site, you should submit your sitemap to the search engines on a regular basis, every 24 hours or so (your tech guy can set this up automatically). Check out AmericanMuscle.com for F-150 and Mustang Parts and also an absolutely world class Sitemap.
To establish trust and credibility in the eyes of your visitors and search engines, your Web site should include both a company information and privacy page. A company information page helps to strengthen your reputation in the eyes of both your Web site visitors and the search engines. Adding a company information page helps build trust with your visitors by explaining who you are and where you come from by providing company biographies, history, and staff photos.
In addition to a company information page, your Web site should also contain a page explaining your privacy policy. A privacy policy page helps to establish trust by declaring that you are committed to protecting the privacy of your visitors' personal information. Try to keep your privacy policy simple and make it easy to read, easy to understand, and easy to find on your Web site. You should consider adding a link to your privacy policy next to a link to your company information page. This way, your visitors can see that you are a trustworthy and legitimate entity.
Have any questions? Feel free to post your questions here or contact me here.
Click any of the links below to read previews from previous chapters:
Chapter 1 – Intro to SEO
Chapter 2 – Keyword Generation
Chapter 3 – Creating Pages
Chapter 4 – Basic Web Site Structure