I hope you enjoyed my previews of Chapter 1 and Chapter 2 of the 2nd Edition of my upcoming book by Wiley, "Search Engine Optimization: Your visual blueprint for effective Internet marketing" due out in July 2010.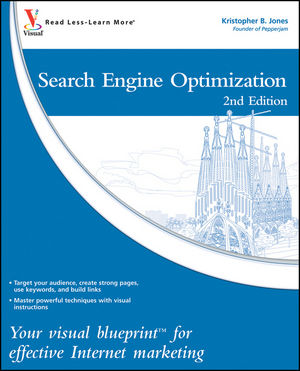 As part of my book preview (stick around because I'm going to preview all 15 chapters before the book comes out next month) I'm happy to present an overview of Chapter 3, which is about Creating Pages. Feel free to post any questions if you have them. If you are a blogger or a member of the media I'd be happy to send you an advanced copy of the book – simply submit your information here.
Chapter 3 – Creating Pages
For the purposes of search-engine optimization, keep in mind that search engines do not actually rank Web sites; instead, search engines rank individual Web pages. Therefore, in order to succeed with SEO each and every page of your Web site must be optimized for search-engine purposes. The most important element of each of your Web pages is substantial unique content. However, you can optimize numerous other important structural and technological factors on your Web pages to ensure that you position yourself to rank well within the search-engine results.
For example, optimizing technical on-site Web page factors such as adding correct file names, title tags, meta description tags, meta keyword tags, and meta robots tags is crucial to making sure the search-engine spiders can determine the relevance of your Web site. Besides your domain name, the first things search engines discover when spidering through the pages of your Web site are your file names. Every single page of your Web site resides in a different file. By titling your pages with search-engine optimization in mind, you have a powerful opportunity to establish relevance to a certain topic or keyword.
Each page of your Web site should contain a unique title tag that includes the target keywords you want to rank for. Search engines place great importance on the text contained within your title tag and use it as a primary indicator of what your Web page is about. Therefore, your title tag should include your target keywords and also provide a concise statement summarizing the content of your Web page.
Although search engines rarely use description and keyword tags for ranking purposes, each page of your Web site should include unique description and keyword tags. Description tags can be especially important because search engines often use them as the display text shown when a search query triggers your Web page. Therefore, your description tag should include a call-to-action marketing message so that your listing stands out among other listings and gets clicked.
Optimizing your content with header tags and other text modifiers allows you to stress the main ideas and topics that your content covers. Header tags are HTML tags used to apply significance to keywords or phrases within a Web page. Placing a selection of text within a header tag tells the search-engine spiders that the text is of a certain level of importance. Using text modifiers, you can emphasize certain blocks of text by bolding, italicizing, or underlining.
Taking care to optimize Web page images is important for those Web browsers that do not support images, and because search-engine spiders are unable to accurately read the content of an image, doing so presents an extra opportunity to add keyword-rich content to your page. Links provide the pathways that search-engine spiders need to find your Web pages. Creating links with search-engine optimization in mind is necessary for optimal results.
Throughout the process of creating Web pages you should try to adhere to the standards set forth by the W3 Consortium, which works to create standards in Web design and development that ensure Internet-wide compatibility.
Quick Reference to 2nd Edition Previews:
Chapter 1 – Intro to SEO
Chapter 2 – Keyword Generation
Chapter 3 – Creating Pages