In anticipation of the release of the second edition of "SEO Visual Blueprint" I'm happy to provide you with previews of each chapter. Scroll to the bottom of this review for easy links to each review.
Pre-order the 2nd edition HERE! The book is likely to be available for normal order tomorrow or Monday!!!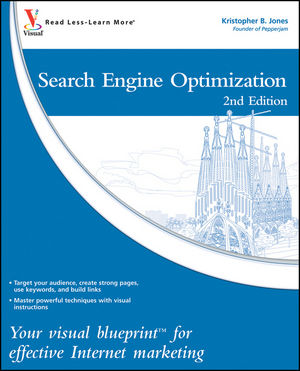 If you made it to Chapter 15 with me – congratulations!!!! You are now ready to get active with optimizing your Web site by installing various (some of my favorite) SEO plug-ins into your Web browser, WordPress Blog, etc.
You may be thinking – what is a plug-in Kris? In short, a plug-in allows you to access information within a browser or administrative console (such as WordPress) that you otherwise would not have access to BUT FOR the plug-in. In the SEO space it's very beneficial to have plug-ins installed when you are looking at how well your site ranks (and your competitors) for various keywords, the authority of your site based on specific criteria, etc.
Read below to learn more and buy the book and read the entire chapter for a crash course on SEO plug-ins!
Chapter 15 – SEO Plug-Ins
SEO plug-ins provide you with on-demand information about various aspects of search-engine optimization. Instead of having to run a specific program every time you want to learn more about a Web site, you simply install an SEO plug-in, such as the Google Toolbar, that directly interacts with your Web browser in real time to retrieve important technical information about the Web site you are visiting. SEO plug-ins typically display information in the form of a toolbar or by integrating with your Web browser or e-mail client.
The Google Toolbar is a plug-in that interacts with your Web browser to provide useful information about the Web pages you visit. The Google Toolbar includes a range of useful SEO features, including the PageRank of each page you visit, a tool to highlight a given keyword within a page, and an AutoFill option to cut down on the time you spend typing the same information over and over again. The Google Toolbar is free and is highly customizable based on your needs. Note that during installation you will be asked if you approve of Google collecting information about your browsing behavior. Although Google may use this information to serve more relevant advertisements and deliver a more personalized search experience, you need to consider the benefits versus legitimate privacy concerns.
The Alexa Toolbar is a useful plug-in that provides information about the traffic ranking of Web sites. Note that Alexa collects information from users who have installed an Alexa Toolbar, allowing Alexa to provide statistics on Web site traffic. Because Alexa collects data only from individuals who install the Alexa Toolbar, many commentators have suggested that Alexa rankings are skewed toward the Webmaster community because a high proportion of Webmasters install the toolbar and the average person surfing the Web does not. Despite this, the Alexa Toolbar allows you to perform multiple levels of competitive analysis and community research throughout your SEO campaigns, while also offering you a shortcut to the information provided on the www.alexa.com Web site.
One of the most useful and popular SEO browser extensions is SEO for Firefox, which gathers multiple pieces of marketing data about a Web site and displays that data within your browser alongside the search results from the Google or Yahoo search engines. Some of the statistics SEO for Firefox makes available for quick view include Google PageRank, Yahoo page and domain links, and number of backlinks.
If you use WordPress to manage your blog, you can benefit from various plug-ins that assist the search-engine-optimization process. For example, installing a WordPress Title Tag plug-in allows you to customize each title tag on your Web site. Installing a WordPress Description Tag plug-in allows you to easily customize the description meta tag on each of your Web pages, and installing a WordPress Sitemap Generator makes sure that you are notifying the search engines each time content is updated on your Web site.
That concludes my review of the 15 Chapters included in SEO Visual Blueprint – Second Edition!
Purchase the 2nd edition HERE!
Click any of the links below to read previews from previous chapters:
Chapter 1 – Intro to SEO
Chapter 2 – Keyword Generation
Chapter 3 – Creating Pages
Chapter 4 – Basic Web Site Structure
Chapter 5 – Advanced Web Site Structuring
Chapter 6: Creating Content
Chapter 7 – Creating Communities
Chapter 8 – Building Links
Chapter 9 – Using Google Analytics
Chapter 10 – Social Media Optimization
Chapter 11 – Creating Pay-Per-Click (PPC) Campaigns
Chapter 12 – Quality Score Optimization
Chapter 13 – Optimize for other Engines
Chapter 14 – Monetizing Web Traffic
Chapter 15 – SEO Plug-ins