In anticipation of the release of the second edition of "SEO Visual Blueprint" I'm happy to provide you with previews of each chapter. Scroll to the bottom of this review for easy links to each review.
Pre-order the 2nd edition HERE!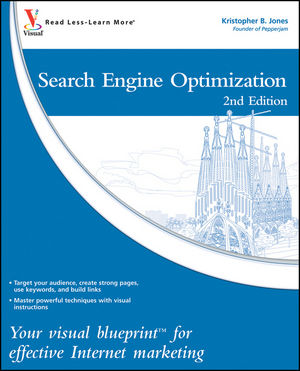 While it's fair to say this entire book is about monetizing Web traffic the truth is that there is a significant difference between Generating Web traffic and Monetizing Web traffic. Chapter 14 is about Monetizing Web Traffic – it assumes you are already generating traffic, but you are looking to evaluate various strategies for monetizing it – sounds like a good problem to have, doesn't it?!
From affiliate marketing to selling links to using Google AdSense to Chitika, there is an abundant of opportunities to monetize your Web traffic. The purpose of this chapter is to lay out various opportunities in an effort to empower you to make more money online.
Chapter 14 – Monetize Web Site Traffic
You may not have an e-commerce Web site that has an obvious monetization method. Instead, you may have a great Web site with unique, well-written content that generates a lot of traffic, and you may wonder how you can effectively monetize your traffic. The Internet opens up the door to making lots of money without having to actually sell anything. In fact, with revolutionary money-making models such as affiliate marketing, contextual advertising, and ad widgets, many Web site owners can make enough money to significantly supplement existing income or in some cases support lucrative full-time employment.
The most commonly used tool for making money from your Web site traffic is Google AdSense. Google AdSense is a contextual advertising technology that serves ads from the Google AdWords Content Network based on contextual relevance. All you have to do is insert a piece of code into your Web site where you want the ads to appear and Google does the rest. The most impressive thing about Google AdSense is the sophistication of the technology. Instead of having to worry that Google might serve ads unrelated to your content, Google's technology has an incredible track record of serving highly relevant advertisements, which enhances the user experience and encourages visitors to come back to your Web site in the future. Even if they leave your Web site by clicking an ad, you get paid a percentage of the amount that the advertiser pays Google to display the ad.
Affiliate marketing is responsible for generating billions of dollars in e-commerce each year. Affiliate marketing allows you to monetize your Web site traffic by partnering with various merchants on a pay-for-performance basis. You get paid only when a lead or sale is referred through your Web site. Thousands of merchants, including many of the largest and most recognized brands in the United States such as Target, Apple, Dell, Amazon, and Wal-Mart, have affiliate programs. These companies pay you a percentage of any sales referred when you promote them on your Web site. In addition, a number of businesses, including many notable insurance, real estate, and dating companies, pay you a flat fee every time you refer a lead through your Web site.
Top affiliates such as Upromise, Cashbaq.com, and Brad's Deals make millions of dollars per year in commission. If you have a niche Web site or know how to effectively supplement your organic traffic with targeted pay-per-click traffic, you are likely to benefit significantly from promoting affiliate marketing offers. The big three affiliate networks are Commission Junction, LinkShare, and Performics. Other newer networks such as AZN and Pepperjam Network are using innovative approaches and technologies to help affiliates monetize Web site traffic and bank large commission checks.
Tomorrow I'll share a review of the final chapter of the 2nd Edition of SEO Visual Blueprint – My favorite SEO plug-ins.
Pre-order the 2nd edition HERE!
Click any of the links below to read previews from previous chapters:
Chapter 1 – Intro to SEO
Chapter 2 – Keyword Generation
Chapter 3 – Creating Pages
Chapter 4 – Basic Web Site Structure
Chapter 5 – Advanced Web Site Structuring
Chapter 6: Creating Content
Chapter 7 – Creating Communities
Chapter 8 – Building Links
Chapter 9 – Using Google Analytics
Chapter 10 – Social Media Optimization
Chapter 11 – Creating Pay-Per-Click (PPC) Campaigns
Chapter 12 – Quality Score Optimization
Chapter 13 – Optimize for other Engines
Chapter 14 – Monetizing Web Traffic