In anticipation of the release of the second edition of "SEO Visual Blueprint" I'm happy to provide you with previews of each chapter. Scroll to the bottom of this review for easy links to each review.
Pre-order the 2nd edition HERE!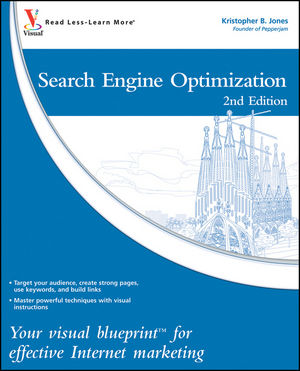 It's true that if you are optimized for Google you've got more than three quarters of the battle won; however, there are other important search engines, such as Bing (remember, Yahoo is in the process of moving over to Bing organic search results), as well as other types of search engines, such as Technorati (a popular blog search engine), Google image / product search, video search engines like YouTube and Vimeo, and many more.
Chapter 13 focuses on how you can apply some of the same techniques you learned in the first 10 chapters on SEO, as well as some specific requirements for particular search engines, to capture the other 15% or so of search that Google doesn't control…..
Chapter 13 – Optimize for Other Engines
Internet search allows you to retrieve information at lightning speed. Although search engines such as Google, Yahoo, and Bing are the most common forms of search sites, many Web sites specialize in organizing very specific types of Web sites rather than trying to index the entire Internet. Getting your site exposure on these more-targeted search engines can send extra traffic or allow you to target a niche that may be too competitive to rank for in the major search engines.
Technorati is a popular search engine for searching blogs. If you can get your blog to rank well on Technorati, you can gain considerable exposure and traffic. Moreover, other bloggers use Technorati to look for stories to write about. In this way, getting your blog ranked on Technorati can be used as an effective link-building strategy.
Del.icio.us is a popular social bookmarking Web site that allows users to share the sites that they visit most frequently and allows other users to gauge which sites on the Internet are most popular. Many users like to browse the bookmarks of other people with similar tastes, so showing up on these lists is essential to your success. Be sure to build out your own del.icio.us profile and become part of the community.
Google Images is a popular service for searching images. Getting Google Images to index your images can potentially lead to significant traffic, especially because Google recently began to show their image results at the top of their regular organic listings.
If you sell products, chances are you can benefit from having your products listed in shopping search engines, such as Shopping.com, Shopzilla, and BizRate.com. Shopping search engines accept product feeds from online retailers and allow users to search and sort these lists by various criteria. Keep in mind that most shopping search engines require you to pay them on a cost-per-click or cost-per-action basis.
Whether potential customers find your products on auction services such as eBay and classified services such as Craigslist greatly depends on whether your listings are optimized for the eBay and Craigslist search engines. Your title and description for both services should include keywords that someone looking for your product is most likely to use. Moreover, you should include text to describe each of the images you use to promote your products.
My next chapter review is Chapter 14 – Monetizing Web Traffic – stay tuned.
Click any of the links below to read previews from previous chapters:
Chapter 1 – Intro to SEO
Chapter 2 – Keyword Generation
Chapter 3 – Creating Pages
Chapter 4 – Basic Web Site Structure
Chapter 5 – Advanced Web Site Structuring
Chapter 6: Creating Content
Chapter 7 – Creating Communities
Chapter 8 – Building Links
Chapter 9 – Using Google Analytics
Chapter 10 – Social Media Optimization
Chapter 11 – Creating Pay-Per-Click (PPC) Campaigns
Chapter 12 – Quality Score Optimization
Chapter 13 – Optimize for other Engines