In anticipation of the release of the second edition of "SEO Visual Blueprint" I'm happy to provide you with previews of each chapter. Scroll to the bottom of this review for easy links to each review.
Pre-order the 2nd edition HERE!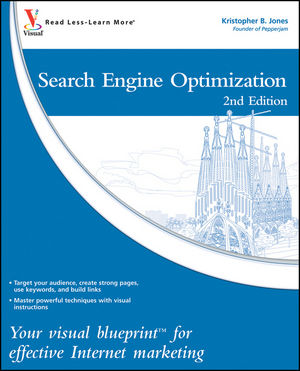 Chapter 10 covers Social Media Optimization, which focuses on how to leverage social networks like Facebook, Twitter, and LinkedIn to generate Web site traffic, build buzz, and authority (aka, links).
This was one of the most enjoyable chapters to update for two reasons. First, leveraging social media to improve SEO and Web site traffic is a no-brainer and has become a primary practice of most businesses and individuals. Second, the social media space has evolved so much since the first edition of the book that I was able to add new content on a range of cool strategies, including Leveraging Twitter Search to increase the amount of related people that follow you, and Leveraging Google Buzz as an additional platform to build reputation, generate Web site traffic, and build authority.
Without further adieu, here's a top down preview of Social Media Optimization from the 2nd Edition of SEO Visual Blueprint.
Chapter 10 – Social Media Optimization
Social media optimization, or SMO, is a form of online marketing that focuses on participating on various social media Web sites to generate traffic, buzz, and links back to your Web site. Social media Web sites include social news Web sites such as Digg, Sphinn, and StumbleUpon; video-sharing Web sites such as YouTube and Revver; and social network Web sites, including Facebook, Twitter, Google Buzz, and LinkedIn. Various recognized SEO and SMO pundits have referred to SMO as "the new SEO" because SMO is often used as an effective and powerful method to quickly build large numbers of links back to your Web site, which can lead to improved organic search-engine rankings.
Leading social networks contain millions of active members. Although there is a common misconception that only teenagers use Web sites like MySpace and Facebook, millions of adults also use social networks to stay in touch with old and new friends and interact through sharing pictures, videos, and more. In fact, an increasing number of businesses are currently using Facebook and most recently Twitter as a vehicle to manage reputation, build brand recognition, promote products, and generate buzz.
Facebook has become the largest and most actively used social network with over 400 million members. You can use Facebook to interact with current and prospective business associates while generating considerable traffic to your Web site and buzz about your business. Facebook is a service used by businesses of all sizes and people of all ages to network and communicate in real time.
In addition to a personal profile page, Facebook also allows you to create dedicated pages, commonly referred to as "fan pages," to promote your business. A dedicated Facebook fan page allows you to provide fans with your company overview, Web site(s), contact info, press releases, videos, blog RSS, Twitter updates, company news, and status. You can also interact with your fans by responding to comments they post to your fan page, as well as through other social networking tools made available through Facebook.
StumbleUpon is a peer- and social-networking technology that includes a toolbar that you install in your Web browser. The StumbleUpon toolbar allows you to discover and rate Web pages, videos, photos, and news articles. Getting your Web pages, videos, photos, and news articles submitted to StumbleUpon is an effective way to generate buzz, traffic, and build backlinks to your Web site.
Twitter is a free social networking service that allows you to micro-blog by sending short "updates" of 140 characters or less to others via a text message from your mobile phone, by typing a message from the Twitter site, or using instant messaging from Jabber or Google Talk. Twitter is a great way to build a list of followers. For business purposes, you can quickly send messages to your Twitter friends when a popular item comes back into stock or as a means to share a special offer or deal.
Twitter Search is Twitter's powerful and increasingly popular real-time search engine. Unlike major search engines like Google, Bing, and Yahoo that update their search indexes every few days or weeks, Twitter Search updates its entire database of news and personal updates, also known as tweets, as they occur. The most powerful way to use Twitter Search and build the amount of people who follow you on Twitter is to type keywords into Twitter Search that relate to your specific product or service. Once Twitter delivers search results, you should follow those users who mention the target keyword.
LinkedIn is a popular business-oriented social networking site that allows you to network with like-minded business professionals and build a list of contacts. By building a database of contacts with people you know and trust in business, you have access to a large network of friends with whom you can conduct business, offer jobs, and promote your business. LinkedIn is an effective network for sharing professional information and news about your business-related activities.
Video sharing Web sites such as YouTube and Revver allow users to upload, view, and share video clips. Videos are a great way to promote your business or to generate buzz and interest in your Web site. The most effective videos either tend to make people laugh or are extremely creative and unique. For example, some of the most viral videos on YouTube are homegrown videos that contain something outrageous or embarrassing. In addition, videos put a face on an otherwise faceless business pitch. Videos build trust in your users and can even result in a "celebrity" or "cult" following if people find your videos interesting.
Social news Web sites such as Digg and Sphinn allow users to submit news stories for other members to view and vote on. News stories that are most timely or interesting tend to make it to the front page of social news Web sites like Digg, which can generate thousands of unique visitors and hundreds of links back to your Web site within a few hours. Getting a news story about your Web site on the front page of Digg is not easy; however, there are numerous proven strategies that are likely to significantly increase your odds.
Next up is Chapter 11 – Creating Pay Per Click Campaigns. In fact, Chapters 11-15 move into strategies for increasing Web site traffic and monetizing Web site traffic related to, but in addition to SEO strategies. For instance, in later chapters I write about optimizing your Web site for other types of "search engines," such as image search and Technorati (a popular blog search engine), making money through affiliate networks like Pepperjam Network (yepper, my baby has her own section in the 2nd edition), my favorite SEO plug-ins, and more!
If you'd like to pre-order the 2nd edition of my book CLICK HERE or wait a few weeks and buy it at any major bookstore in North America.
Click any of the links below to read previews from previous chapters:
Chapter 1 – Intro to SEO
Chapter 2 – Keyword Generation
Chapter 3 – Creating Pages
Chapter 4 – Basic Web Site Structure
Chapter 5 – Advanced Web Site Structuring
Chapter 6: Creating Content
Chapter 7 – Creating Communities
Chapter 8 – Building Links
Chapter 9 – Using Google Analytics
Chapter 10 – Social Media Optimization